Remember John Aquino?
REMEMBER John Aquino, the Filipino migrant worker who was sentenced to die by firing squad for killing an Indian colleague in the United Arab Emirates in September 1989?
He will be home free on Sunday, a source at the Department of Foreign Affairs told the INQUIRER.
He is scheduled to arrive in Manila Sunday night via Emirates Flight EK 84, according to a lawyer involved in the negotiations between Filipino, British and Indian diplomats and the family of Aquino's victim in London.
Aquino, a 37-year-old native of Binmaley, Pangasinan, will be turned over to Philippine Ambassador to UAE Amable Aguiluz III early Sunday, the lawyer said.
Aguiluz and Owwa officer Abdul Atif Malvisa will accompany Aquino on his journey home.
Aquino was convicted of killing Harbajan Lal Singh Mahli, an Indian, in Ajman, one of UAE's seven territories. Mahli's wife and brothers are naturalized Britons.
The UAE court meted out the death penalty to Aquino on June 26, 1996.
Aquino was supposed to die by firing squad a week later, but then Philippine Ambassador to UAE Roy Señeres sought postponement of the implementation of verdict for nine times in the next three years.
In 1998, Señeres asked British diplomats to persuade Mahli's family members to pardon Aquino on grounds that London is against the death penalty. They did, and the negotiations ended last month with the victim's family agreeing to forgive Aquino without payment of blood money.
From the news report, "Doomed John Aquino Coming Home Sunday", Philippine Daily Inquirer, 5 January 2000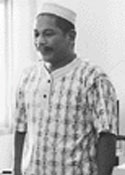 Tapos na ang kuwento ni John Aquino sa UAE. At salamat sa Diyos, maganda ang naging katapusan nito na dapat ipagbunyi ng mga Pilipino sa Middle East. Sa mga ganitong kuwento ay nakakakuha din ng inspirasyon ang mga kababayan natin sa Gitnang Silangan. Sa kaso ni Aquino, masasabi nating may pag-asa pa tayo sa ating pamahalaan. Ang maagap nitong pagkilos at di pagpapabaya ang nagligtas sa buhay ng ating kababayan.