Personalan: Filipinos Connecting to Filipinos
If there is one trait that places Filipinos above any other expatriate communities, it is their strong sense of brotherhood. The Filipnos' penchant to use a lot of terms of endearment is a manifestation of this. Thus, it is not surprising to find "'Tol", "Bro", "Brod", "Pare" and "Tsong" among Filipino men, for example. All these catch titles can literally translate to "brother". Therefore, among different expatriate communities, notice the unique sense of affinity among Filipinos.
No Filipino will ever be able to withstand loneliness. He will have to find a fellow who shall be his buddy, for better or for worse. Expand your circle of friends. Meet them right here in Personalan where connecting to a fellow Filipino should no longer be difficult. Share stories and experiences. Exchange pleasantries. Feel like your home with your dear friends.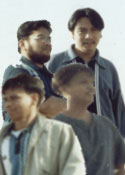 Pictures indeed paint thousands of words. Filipinos in the Middle East have taken pictures of practically all of their moods. These pictures will forever provide us with glimpses of their lives changed by the tough Middle East environment.
---
Love Hurts: Broken Hearted in Riyadh
Boy (not his real name) went to Riyadh six years ago to earn and save. He is fired by his big dreams that he shares with the girl he knew he is going to marry. It was very lonely in Riyadh but he survived inspired by the thoughts of the woman waiting for him back home. After he completed his two year contract, Boy was all excited to come. He is getting married. He already have saved enough for the wedding and all. When he reached home, he almost died when he learned that his loved one did not survive two years of his absence and have eloped with another man. Boy was shackled in tears.
---
Puwede ba naman sa ating mga Pilipino ang walang picture? Souvenir baga. Kaya naman kahit saan mo dalhin ang Pinoy, may karay-karay itong kamera. Picture dito. Picture doon. Madalas nga ay mas naka-focus pa ang background kaysa sa kanila. Silip kayo sa Photo Album dito at siguradong mapapatunayan ninyo ito. Iba talaga ang Pinoy!

Handa na ba kayong makipag-personalan sa mga kababayan nating nasa Middle East? Katulad na bawat isa sa atin, tao rin sila. Walang pinagkaiba sa ating mga nasa Pilipinas.