Tribyang Pinoy: Baka makalimot tayo...
When the idea behind this website was first hatched, we never thought that it would be laden with very heavy stuff. As we progress on its development, we realize that we can not avoid it. Despite finding inspiring stories from our kababayans, distressing accounts continue to persist.
It is in this context that we decided to make room, as much as possible, for the light stuff. Fortunately, we discover it early on that it will be difficult to create a section for these things so we thought it would be fine to lump them all together in this section for trivia.
However, when the final pages are completed, we discover that our definition of light and trivia will be relative to the acceptable definition. Thus, bear with us if our trivia is not what you would actually expect. Rest assured though that for our kababayans in the Middle East, these are.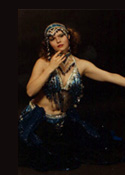 If you have been to Egypt, you will be fascinated with their belly dancers. They simply are graceful that you would doubt if they still have their bones in place. Their movements are mesmerizing and delicate, sensual but not sexual. Like a feather smoothly flying about.
---

Parami Pa rin ng Parami sa Saudi
Based on the preliminary statistics released by the Philippine Overseas Employment Administration(POEA), deployment of Filipino workers to the Kingdom of Saudi Arabia has steadily increased from 56,023 to 60,522 as of the second quarter of 1999 compared to the same period last year. This means no negative publicity will deter Filipinos from coming to the fiercely conservative Islamic country in the Middle East. This also proves that government has failed in providing sufficient job opportunities to its citizens.