Have You Been to Bat'ha?
Bat'ha is more popularly known as the "Filipino Market" having been overtaken by Filipinos throughout the years and has become their activity center on holidays in Riyadh, Kingdom of Saudi Arabia
For most of the migrant Filipinos in Riyadh, Bat'ha, despite its deteriorating streets, is a breath of fresh air, a perfect breather for a weeklong slavery in some Arabic workplace. It is like being shuttled back to the Philippines in a snap. The only reminder that you are still in Saudi Arabia would be the signboards in Arabic and a persistent number of Indians plying their wares to the spend-free Filipinos.
Bat'ha provides everything a Filipino may look for. From legal businesses to underground transactions, you will find them all here. Shopping plazas and restaurants here have actually taken on the names of popular Philippines shopping centers and destinations. Thus, do not be surprise if you here Filipinos inviting you to play bowl at Quiapo, buy fresh bangus at Divisoria, bargain for cheap clothes at Baclaran or look for imitations of branded perfume in Megamall. Actually, a quick tour of the Filipino market brought us to Kamayan, Landmark, Cindy's, Barrio Fiesta, SM and Cubao. Of course, none of these are franchise holders. These establishments merely took the names to attract Filipinos who probably are the biggest spenders among the expatriate community in Riyadh. In fact, even Sony's promotional campaign has a translation in Filipino, proof that other than the Arab market; Sony counts on the Filipinos for jacking up on its income.
Bat'ha is also the plying route for most illegal transactions involving some spirited Filipinos who would dare defy Saudi laws. In conspiracy with other enterprising nationals, including some Arabs, Bat'ha offers unedited pirated movies from the Philippines. In fact, as the Philippines was debating the surge of pornographic films, Bat'ha saw brisk sales of "Burlesk Queen Ngayon". If you find the 8SR per minute rate at Call Cabins quite expensive, the so-called India connection in Bat'ha will only cost you 30SR for ten minutes. Gambling and other games of chance are also widespread in Bat'ha. Drug trafficking is definitely present in Bat'ha. Recently, it was discovered that even pork can now be bought in Bat'ha but one needs special connections to get some.
Even the hopelessly romantic among our migrant Filipinos has found refuge in Bat'ha. You only need to be very observant to identify couples who are just sneaking. The parking lot in Bat'ha is a perfect meeting place for these star-crossed lovers. On the end of the equation, runaway Filipinos are known to come to Bat'ha to seek assistance from his fellow. It is common knowledge that authorities find it difficult to locate runaway Filipino workers once they have joined the crowds of Bat'ha.
Apparently, Bat'ha is everything that is and there is for Filipinos in Riyadh. It is a home away from home. On weekends and especially on paydays, Bat'ha is a picture of bustling economic and social activities. Authorities are trying very hard to preserve Islamic order in the place but it is not difficult to conclude that they are waging a tough battle in Bat'ha.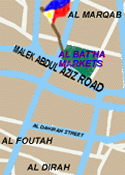 Dahil sa naging tambayang Pinoy na ang Bat'ha sa Riyadh, maiisip mo na sana nandito na rin ang Philippine embassy kaysa doon sa Diplomatic Quarter na ang hirap puntahan. Actually, ang Bat'ha na nga yata ang unofficial embassy ng mga Pilipino sa Riyadh. Bgayon, alam na siguro natin kung bakit hindi pupunta ang mga embassy officials dito.